Plymouth Babylab, established in 2006, is specialised in the study of early language development.
Our research programs focus on addressing key questions in language development:
How do infants learn the sound system of their maternal language?
How do they segment continuous speech to extract word forms?
How do toddlers learn their first words, and how do they grow their lexicon during the second and third years of life?
What are the characteristics of language input directed to infants and toddlers growing up in a variety of conditions?
What kinds of multimodal distributional cues are present in language input directed to infants?
How do infants extract information from the language input and what kinds of mechanisms do they employ in processing such complex signals?
In the Babylab, we address these questions using a range of techniques:
Eye-tracking, the head-turn preference procedure, face to face interactions, and more.
---
Plymouth Babylab also hosts research looking into children's social cognition and social development from a cross-cultural perspective. This multidisciplinary line of research is conducted in collaboration with scientists from different fields of psychology, biology, anthropology, and education. It examines how children across the world learn social norms, how they cooperate, and what enables them to behave ethically.
---
Over the years, we have produced a range of tools that can be useful to the scientific and clinical community to assess language development in various situations.
---
LANGUAGE EXPOSURE QUESTIONNAIRE FOR BILINGUAL CHILDREN (LEQ)
---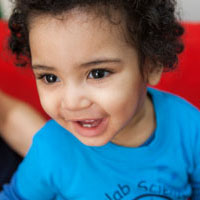 The Plymouth LEQ measures the percentage of exposure to English that a bilingual or trilingual toddler receives during a typical week.It is administered in the form of a 10-minute interview through discussion with the parent. It is free of charge.
---
---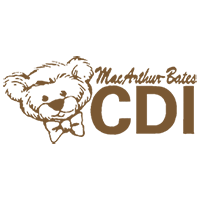 The Arabic Short Form McArthur Bates CDI (Words Only) for 8- to 30-month-old infants was developed at the Plymouth Babylab. It is a simple language assessment tool that is freely available to students, researchers, parents and practitioners who are interested in evaluating vocabulary development in monolingual Arabic-learning infants. It is available in 17 Arabic dialects. Norms are provided for the Egyptian dialect and can be reasonably extrapolated to the other 16 dialects.
---
---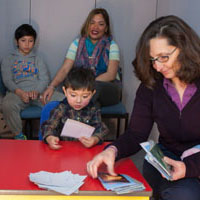 Words in Game is a new language assessment tool for British English-speaking children aged 19 to 47 months. It is a picture naming task, consisting of a card game in which children have to recognise or say the name of the object or the action represented in the card. In addition to the correct productions, the types of errors and the no-responses are helpful for further evaluation of the qualitative aspects of the lexical difficulties of young children. Norms have now been published and the test is available for purchase from Stass/Elklan publisher. We hope it will be used in health care settings to assess children with language difficulties.
---
UKBTAT : UK BILINGUAL TODDLER ASSESSMENT TOOL
---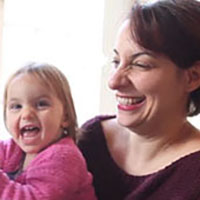 The UK Bilingual Toddlers Assessment Tool (UKBTAT) was designed by a team of researchers from British Universities (University of Plymouth, University of Bangor, University of Birmingham, University of Kent, University of Liverpool and University of Oxford), in a project funded by the ESRC. It is meant to be used by practitioners in the UK who wish to assess the language of a bilingual child aged 2 years learning British English and any Additional Language.This is a free online site for researchers, UK educators and health care practitioners.
---
---
2021 Publications
• Briazu, R. A., Floccia, C., & Hanoch, Y. (2021). Facebook sharenting in mothers of young children: the risks are worth it but only for some. Technology, Mind, and Behavior, 2(4). • Khattab, G., Abdelwahab, A. G. S., Al-Shdifat, K., Alsiddiqi, Z., Floccia, C., Kouba Hreich, E., McKean, C., Moitel Messarra, C., Odeh, T., & Trebacz, A. (minor revisions). Promoting early language development in the Arab world and Sustainable Development Goals (SDGs) 3, 4, 10 and 17. International Journal of Speech-Language Pathology. • Abdelwahab, A. G. S., Forbes, S., Cattani, A., Goslin, J., & Floccia, C. (2021). An adaptation of the MacArthur-Bates CDI in 17 Arabic dialects for children aged 8 to 30 months. Language Learning and Development, 17(4), 425-446.
2020 Publications

• Floccia, C., Delle Luche, C., Lepadatu, I., Chow, J., Ratnage, P., & Plunkett, K. (2020). Translation equivalent and cross-language semantic priming in bilingual toddlers. Journal of Memory and Language, 112, 104086.
2019 Publications

• Almubark, B., Cattani, A., Floccia, C. (2019). Translation, cultural adaptation and validation of the Cognistat for its use in Arabic speaking population with acquired brain injury. European Journal of Physical and Rehabilitation Medicine, 55(5), 595-604.
• Bergelson, E., Bergmann, C., Byers-Heinlein, K., Cristia, A., Cusack, R., Dyck, K., Floccia, C.,... & Soderstrom, M. (2019). Quantifying sources of variability in infancy research using the infant-directed speech preference. Advances in Methods and Practices in Psychological Science, 3(1), 24-52.
• Cattani, A., Floccia, C., Kidd, E., Pettenati, P., Onofrio, D, Volterra, V. (2019). Gestures and words in naming: Evidence from cross linguistic and cross cultural comparison. Language Learning, 69, 709-746.
• Cattani, A., Krott, A., Dennis, I., Floccia, C. (2019). WinG Words in Game Test: A vocabulary assessment for preschool children. St Mabyn, UK: Stass Publications. ISBN: 9781874534563
• Conti, D., Cattani, A., Di Nuovo, S. Di Nuovo, A. (2019). Are future psychologists willing to accept and use a humanoid robot in their practice? Italian and English students' perspective. Frontiers in Psychology Human-Media Interaction 10, 2138, 1-13.
• Grzyb, B. M., Cangelosi, A., Cattani, A., & Floccia, C. (2019). Children's scale errors: A by-product of lexical development? Developmental Science 22(2), e12741.
• Grzyb, B. M., Nagai, Y., Asada, M., Cattani, A., Floccia, C., & Cangelosi, A. (2019). Children's scale errors are a natural consequence of learning to associate objects with actions: a computational model. Developmental Science 22(4), e12777.
• Taranu M., Wimmer, M. C., Ross, J., Farkas, D., van Ee, R., Winkler, I., & Denham, S. L. (2019). Children's perception of visual and auditory ambiguity and its link to executive functions and creativity. Journal of Experimental Child Psychology, 184, 123-138.
• Wimmer, M. C., Dome, L., Hancock, P. J. B., & Wennekers, T. (in press). Is the letter cancellation task a suitable index of ego-depletion? Empirical and conceptual issues. Social Psychology.
2018 Publications

• Azize, P. M., Cattani, A., & Endacott, R. (2018). Perceived language proficiency and pain assessment by registered and student nurses in native English‐speaking and EAL children aged 4–7 years. Journal of Clinical Nursing, 27(5-6), 1081-1093.
• Bertels, J., Bayard, C., Floccia, C., & Destrebecqz, A. (2018). Rapid detection of snakes modulates spatial orienting in infancy. International Journal of Behavioral Development, 42(4), 381-387.
• Floccia, C., Sambrook, T. D., Delle Luche, C., Kwok, R., Goslin, J., White, L., Cattani, A., Sullivan, E., Abbot-Smith, K., Krott, A., Mills, D., Rowland, C., Gervain, J., & Plunkett, K. (2018). Vocabulary of 2-year-olds learning English and an Additional Language: Norms and effects of linguistic distance. Monographs of the Society for Research in Child Development, 83(1), 30-42.
• López-Pérez, B., Ambrona, T., & Gummerum, M. (in press, 2018). Emotional preferences and goals and emotion dysregulation in children with Asperger's syndrome and typically developing children. British Journal of Clinical Psychology, 57(3), 274-290.
• López-Pérez, B., Wilson, E., Dellaria, G., & Gummerum, M. (in press, 2018). Studying Children's Intrapersonal Emotion Regulation Strategies from the Process Model of Emotion Regulation. The Journal of Genetic Psychology, 178(2), 73-88.
2017 Publications

• Frank, M. C., Bergelson, E., Bergmann, C., Cristia, A., Floccia, C., Gervain, J., Hamlin, J. K., Hannon, E. E., Kline, M., Levelt, C., Lew-Williams, C., Nazzi, T., Panneton, R., Rabagliati, H., Soderstrom, M., Sullivan, J., Waxman, S., Yurovsky, D. (2017). A collaborative approach to infant research: Promoting reproducibility, best practices, and theory-building. Infancy, 22(4), 421-435.
• Grzyb, B. J., Cangelosi, A., Cattani, A., & Floccia, C. (2017). Decreased attention to object size information in scale errors performers. Infant Behavior and Development, 47, 72-82.
• Wimmer, M. C., Robinson, E. J., & Doherty, M. J. (2017). Are developments in mental scanning and mental rotation related? PLOS One, 12(2), e0171762.